MicroBusiness Case Studies
---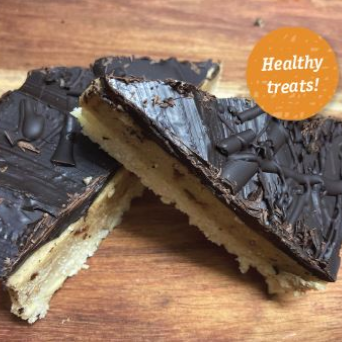 Paula's Story
---
The NILS MicroBusiness loan helped buy equipment for this growing business
Business
Saintly Sweets
---
Owner
Paula Fenton
---
Services
Making hand-crafted epecurean sweet treats free from gluten, diary and refined sugar, dipped in 90% cocoa chocolate
Paula used the NILS MicroBusiness loan to buy her own chocolate tempering machine - previously she had to do the process all by hand which was incredibly labour intensive.
From her own personal experience and those of dear friends, Paula became aware of a scarcity of delicious treats in cafes and specialist stores which are free from potentially damaging additives, in particular gluten, dairy and refined sugars. There was nowhere to enjoy a treat with coffee whilst joining friends in a cafe.
Saintly Sweets are just that, Saintly in their make-up and Wicked in their flavour and nutrition. All of the produce are hand made using as many local ingredients as Paula can source, for example she uses hand-picked cherries from a 100 year old heritage tree in Cradoc.
Some of Saintly Sweets' range includes some old favourites renamed as Sinful Snicker, Blissful Bounty, Cherubic Cherry Ripe, Luscious Lamington and NoMaltTeaza.
Other MicroBusiness good news stories
---