MicroBusiness Case Studies
---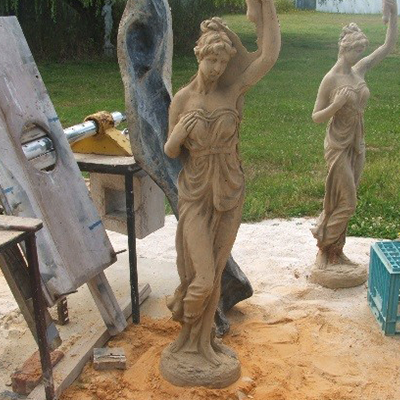 Rodrick's Story
---
NILS MicroBusiness loan allowed business to grow to the next level.
Business
Classical Statues
---
Owner
Rodrick Sheers
---
Services
Making concrete statues and garden ornaments.
Roderick along with his wife, Karen and daughter, Amber began making concrete statues several years ago. After seeing a NILS MicroBusiness pamphlet at Anglicare in Devonport Roderick began thinking of how this could help with expanding his emerging micro business "Classical Statues".
Roderick and Amber create, design and manufacture complex latex rubber and fiberglass molds. Karen works on the artistic side of painting and finishing the pieces. The three generally work together in the pouring of the actual concrete statues, it really is a family thing. It has taken many years and a lot of saving to get the business to its current position.
Sales had so far mainly been through Gumtree, and occasionally to passing customers from the front of their home. The NILS loan helped them grow the business by securing enough backup stock to start placing their pieces on consignment in selected retail outlets. They have had overwhelming support from outlets in garden centers and antique shops.
Their goal is to have one part-time employee and no longer require a government pension. They have been working hard to make this goal a reality. The abundant offers of stores wanting the statues on consignment, encouraging sales growth and the support of NILS has given them confidence in moving forward.
Other MicroBusiness good news stories
---